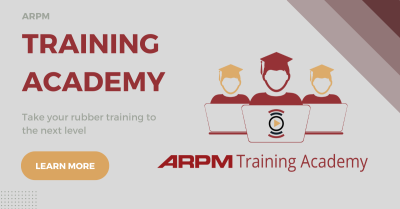 The ARPM Training Academy is a dynamic technical training resource that teaches fundamentals and advanced topics for the rubber industry. The ARPM Training Academy provides training, and improves the knowledge base for the entire workforce, from the entry-level machine operator to the highly skilled engineering professional. Our newly designed in-person training provides in-depth principles of design not available anywhere else in the rubber industry or academia.
---
About the ARPM Training Academy
The foundation for the ARPM Training Academy lies within ARPM's industry-leading best practice documents, ARPM technical guidance documents, and ARPM's The Rubber Handbook. Our instructors are veteran experts in their fields boasting over 140+ years of combined experience in the rubber manufacturing industry.
Whether you choose the online or in-person training, the ARPM Training Academy will assist companies in investing in their people and improving product quality, efficiency, morale, and turnover, all while leveraging expert training to lower cost, waste, and downtime -ultimately impacting the bottom line!
Click on the links below to learn more about our programs
---
Online Training – Available 24/7
These courses provide attendees with the introductory, core information they need to understand the basics of each primary discipline of the rubber manufacturing industry and what it takes to make a part. It's broken up into several modules, including Non-Molding Operations, Quality in Rubber Manufacturing and Job Setup and Production Flow.
These one-week intensive courses provide comprehensive and consistent training in various rubber science topics. Covering several in-depth principles of design, you will not find courses like these anywhere else in the industry or academia.
After years of research, ARPM has partnered with Thayer Leadership for the creation of the Building Leaders of Character Leadership Program. At Thayer Leadership, like nowhere else, you'll experience the legacy of military leadership lessons from those who have powered and led a nation. And today, empower organizations to adapt and thrive. Both virtual and in-person sessions are available.